---
Connecting with Customers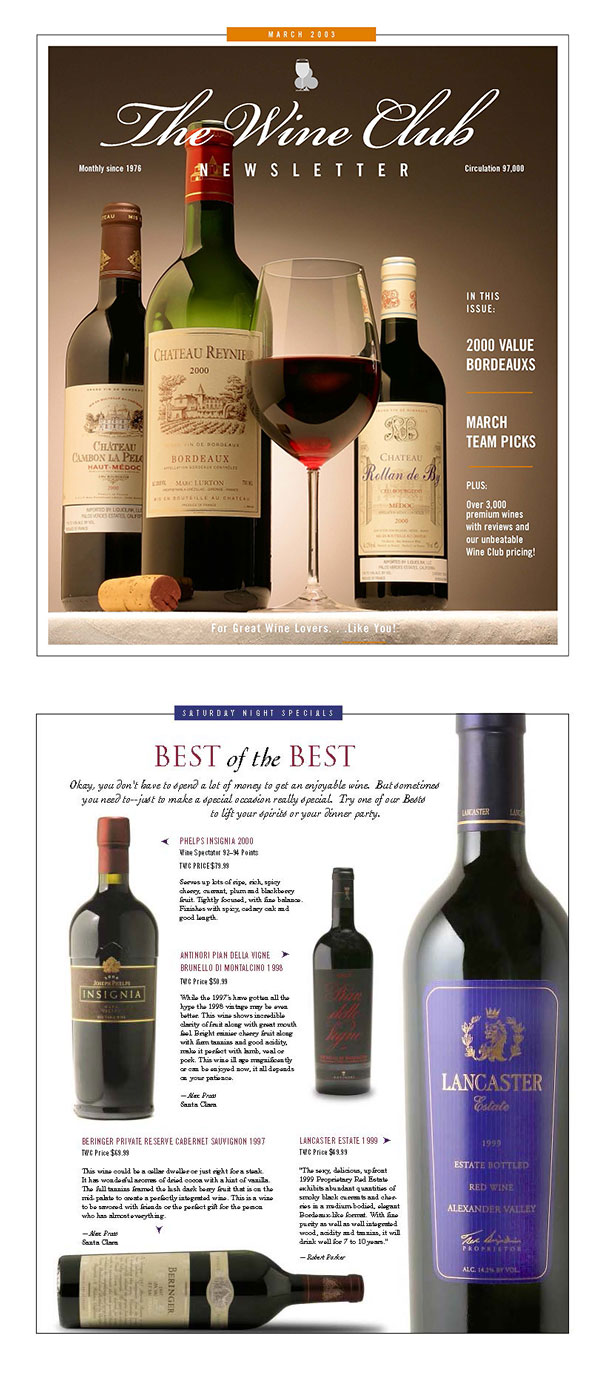 Client
The Wine Club Newsletter
Project Overview
Shopping for high-end wines at the club's store near the San Jose Airport, Patrick noticed The Wine Club's magazine and knew it desperately needed a fresh look. He learned that co-owner Marjorie Lautherback was in charge of the publication and scheduled a meeting at their Los Angeles office.
While there, Patrick met Joe Rubio, newly-elected VP of Sales, who coincidently was shopping for a design team to revamp bot the look and printing of over 90,000 newsletters produced and mailed each month. Patrick was asked to design a cover and sample spreads, competing against another South Bay agency. Patrick won the account.
In addition to the new design, Patrick sourced a web printer offering mailing services that could print a tabloid-size book on higher-grade stock and mail for less than their existing facility. A big win for the client and for our shop, since we now had a larger canvas with which to work, and more color pages.
The most difficult part of monthly production proved to be updating 18 pages of wine inventory, a complex task requiring deep understanding of page layout programs. With tight timelines and thousands of prices to align and break over multiple spreads, Patrick called on ex-agency art director Beth Cole to develop a Quark Xpress production process.
Patrick and Joe Rubio's relationship proved amicable, and over the course of three years Patrick revised the corporate logo, produced in-store posters and developed new signage for the San Francisco store. The studio lighting of Rod Johnson, who had previously shot for Almaden Vineyards, elevated the look of the issues.